There are several ways to attach a GoPro camera to your guitar. The most common one is to attach a jaw mount to the headstock and point the camera at the neck to show you the notes you're playing. Another way is to place the camera on the guitar body and aim it at the headstock and fingerboard so that your hands and face also remain in the camera frame.
Here are two different kinds of guitar mounts. Check if they are useful for you.
1. Jaws Flex Clamp Mount with Adjustable Gooseneck (click to view)
It is a gooseneck adjustable mount that provides different angles for better shoot. The gooseneck mount can be mounted on the headstock and body part. You can choose to remove the gooseneck part if you don't want to closer shoot on your guitar string. With the gooseneck, you can shoot a wider angle and perspective. Some guitar players will mount it on the guitar body and use it on the live show to help them record both the guitar play and the reaction of the audience.
Its installation is very easy. Clamp and adjust. Apart from mounting it on the guitar, it can also be installed anywhere such as on a desk, tree trunk, pole, etc. But please remember not on any moving object, the clamp cannot endure extreme shock.
2. Adjustable Music Mount with Rotating Stage (click to view)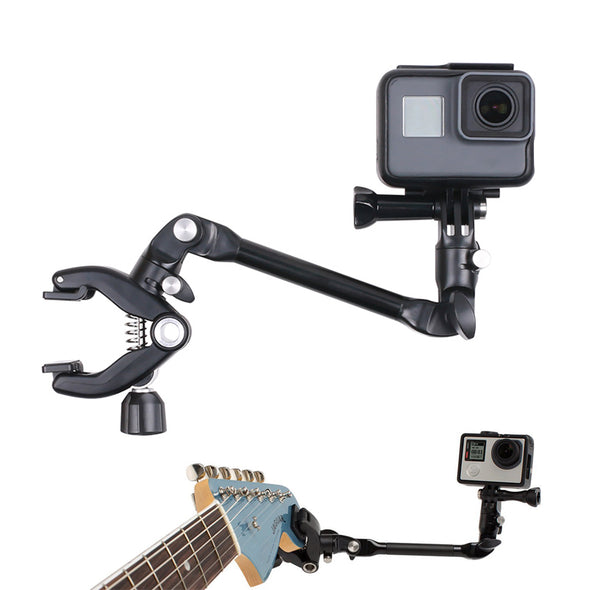 It is mostly used on the guitar headstock. Thanks to the rotating stage, you can move its direction randomly. It's also adjustable that can help you get the best angle. The structure is fairly simple, there is a metal spring in the middle of the two clips, a thumbscrew can be turned to open and close the clamp, and the rubber surface of the clips can ensure that the clips grip the guitar firmly.
Besides, wherever it is attached, it holds firm without damaging the equipment because of the rubber insert. Despite marketed towards musicians, this mount can not only be used on guitars but any other slim object or pole making it a great alternative.
Reference:
Slovic, I. (n.d.). Best GoPro Mount for Guitar. WACMAG. https://wacmag.com/best-gopro-mount-guitar
----------------
About HSU
Fast forward nearly 10 years and HSU has now sold millions of products worldwide, making it one of the most successful camera accessory brands in the world.
HSU™ is one of the most popular action camera accessory brands on Amazon. Since its listing on Amazon, HSU products have received numerous positive feedback from our customers and some professional action camera accessories are ranked as Amazon's best sellers. Check HSU Store on Amazon here.
If you're new to HSU products, you're warmly welcomed to follow us on Facebook @HSU Shop, Twitter @HSU Shop, Instagram @hsu_officialshop, YouTube@HSU Camera Accessories, and official website to catch up with all our updates.