Filming the exciting motorcycle trip is an awesome idea especially when you have a GoPro. But how to start? You may what to know the answer because you cannot just hold the GoPro when you are riding. 
Before we dive into choosing the mounts, you need to decide which place you would like to put your GoPro. Actually. there is no specific mounting location for a GoPro on a motorcycle. Every rider has its demands for the footage. But two common spots are usually used for mounting a GoPro: handlebar and helmet. The handlebar mount is directly attached to your bike's handle, while the helmet mount can be attached to either the front of the helmet or the chin of the helmet.
We have already known the suitable mounting spots. Now, here are some mounts that can be used for motorcycle shooting:
For Helmet:
The adhesive mount is a great choice for shooting on the helmet. It is secure enough to be mounted on either front or side of your helmet. Its 3M stick adhesive pad is resistant to high temperature, humidity, and shock. Besides, its waterproof design ensures adhesion even on a rainy day. Most importantly, it can be removed by heating (e.g. from the hairdryer). No need to worry that it will be permanent on your helmet. The quick release buckle in this kit can help you take on and take off your GoPro quickly.
This chin mount has a butterfly Appearance. The butterfly wing glue covers a wide area, which can be more firmly attached to the surface of the helmet. No complicated cooperation with installing or removing, tie-in the J-hook buckle mount and the long and short same direction straight joints.
3. Motorcycle Helmet Chin Strap Mount

Compared with the adhesive chin mount, this mount can be fastened on the helmet chin. The mount part is made of silicone, which can fit the different helmet surfaces perfectly.
For Handlebar:

This Rotatable handlebar mount allows 360-degree rotation for your shooting from different angles, meeting your all-around shooting requirement. Not only for motorcycling, but it is also suitable for biking, and motocross that has a handlebar.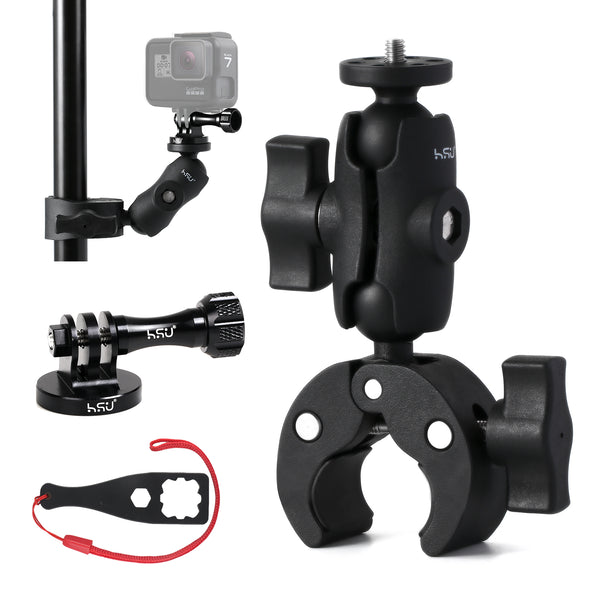 Super Clamp has a multifunctional double ball head with a clamp at the bottom. Double 360 degrees ball head articulating design adjusts any angles based on your needs. It can be applied to more scenarios thanks to its adjustable clamp.
The mounts mentioned above can satisfy your basic need for motorcycle shooting. If you want to get a more interesting experience on shooting, different kinds of extension arms such as Aluminum Alloy Extension Arms, Curved Extension Arms, or Chest Strap can become your next choice.
About HSU
Fast forward nearly 10 years and HSU has now sold millions of products worldwide, making it one of the most successful camera accessory brands in the world.
HSU™ is one of the most popular action camera accessory brands on Amazon. Since its listing on Amazon, HSU products have received numerous positive feedback from our customers and some professional action camera accessories are ranked as Amazon's best sellers. Check HSU Store on Amazon here.
If you're new to HSU products, you're warmly welcomed to follow us on Facebook @HSU Shop, Twitter @HSU Shop, Instagram @hsu_officialshop, YouTube@HSU Camera Accessories, and official website to catch up with all our updates.