Repost from Ralph Mayhew's review: HSU 72 IN 1 GOPRO ACCESSORY KIT (GoPro Hero10 Black & Hero9 Black)
HSU's 72 in 1 GoPro Accessory Kit (GoPro Hero10 Black & Hero9 Black) is certainly a great deal if you're in need of a large variety of helpful accessories. While all the accessories are designed with the GoPro models 9 & 10 in mind, many of them can be very useful when used with action cameras other than GoPro units.
The purpose of this review is not to bore you looking at every single accessory, however, for your convenience you'll find a list at the bottom of this article. Instead, I'm going to focus in on the interesting and creative elements of this kit, which I think would appeal most to action camera users.

A hard shell case with a soft fluffy interior that is specifically moulded to fit the shape of a GoPro. Its external zips allow access and protection to keep your GoPro in great condition.

   
With (adjustable) over-the-shoulder and (adjustable) around-the-chest thick elastic straps and solid durable clips this mount is a great asset to anyone's action camera kit. What nudges the chest mount in front of its competition is its angled mounting bracket, which helps position the camera angle just right for bike riding in particular.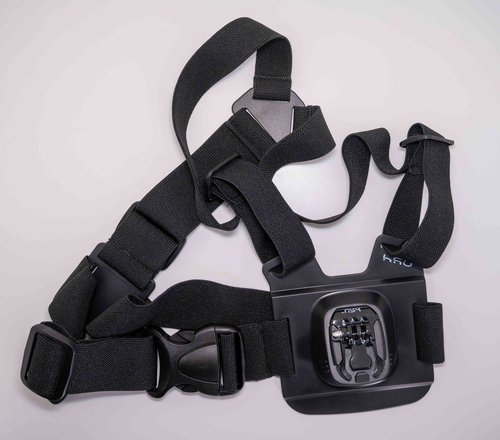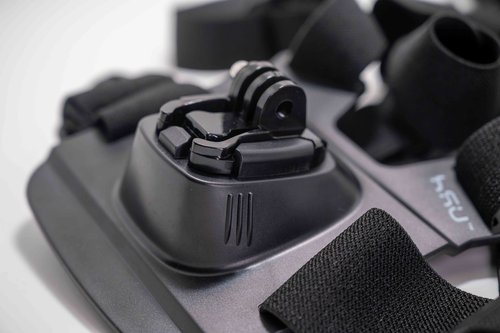 Made to hug the GoPro 9 & 10 models, and accompanied with a silicon lens cap, this could easily be a permanent accessory that lives on your GoPro. It would deter damage if the camera were dropped, but still allows full access to all the buttons, screens and functions.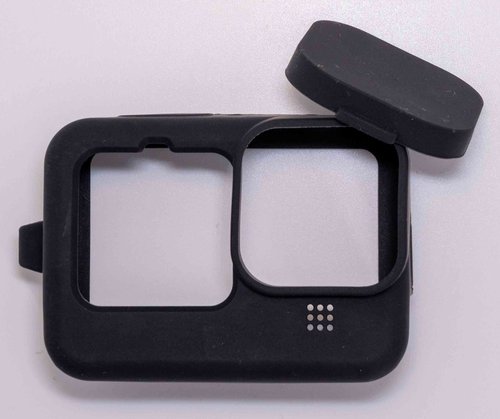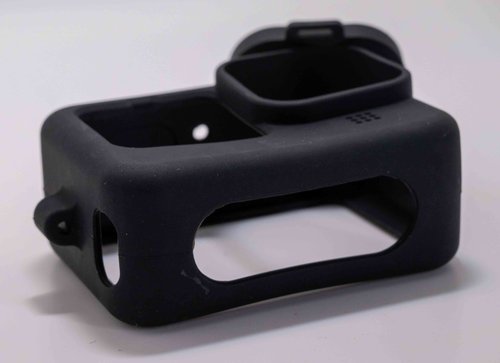 This is the perfect replacement for your plastic battery door, especially if you need frequent or continued access to the USB-C port. It's alloy finish makes it feel classy but make sure you remember it's on if you're ever going to take the unit underwater. The USB-C access port would cause the camera to fill up with water, if you didn't replace it with the original.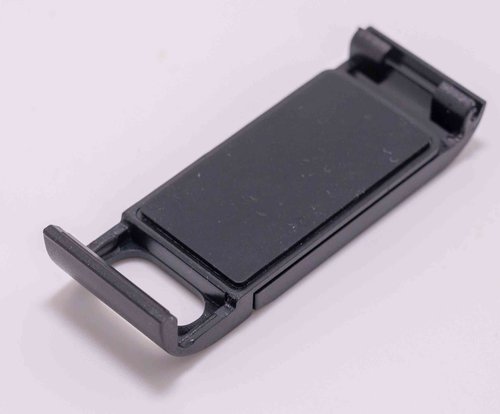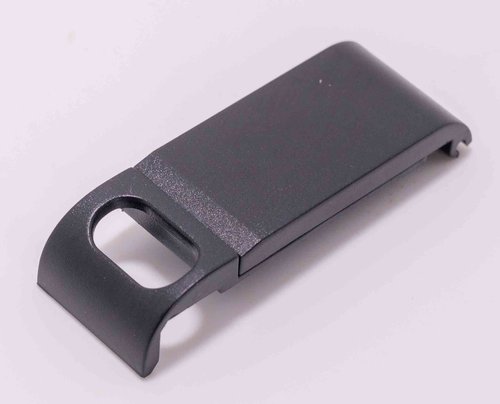 This high quality case with substantial water seal enables you to descend to depths of 60 meters, far exceeding the 10 meter limit of the GoPro without a case. It's well made and very durable, resistant to bumps. You can also add three different filters (red, magenta, and light red) to take more accurate footage when underwater. Couple this with the orange floating brick to minimise the chances of a lost camera when out at sea, and you're ready for the water.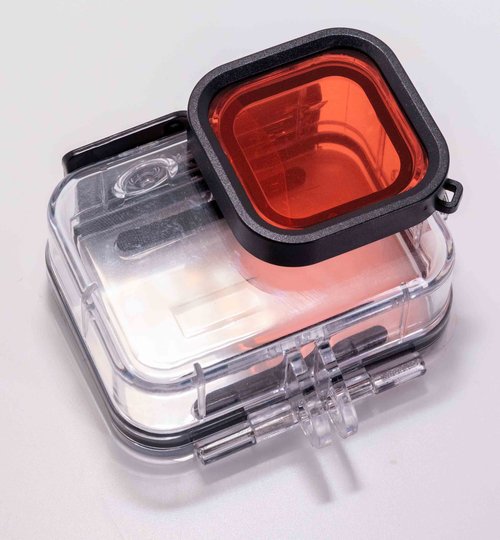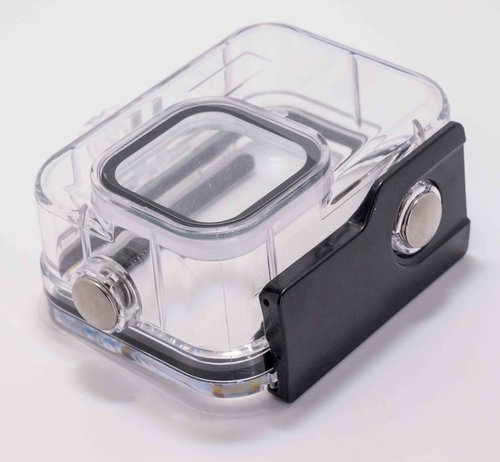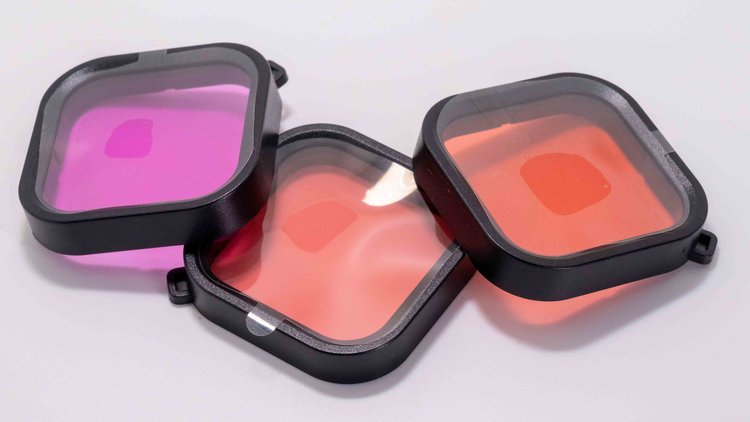 This bright orange floating foam case has a couple of great advantages. First it keeps your GoPro safe in the event of a fall from a great height. Second it floats and won't allow your camera to sink. Third it can be seen from quite a long way away given its bright colour. You can still access the screen and buttons while it is on.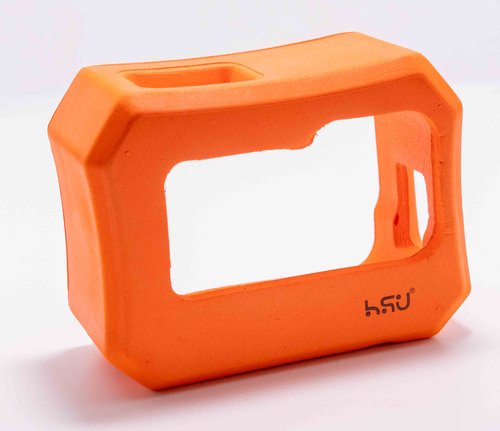 With these two styles of handlebar mounts you can secure your camera to any thickness handlebar and the swivel attachment on top enables you to position your camera at any angle you wish, both on the pan and tilt axis'. The rubber interior grip on the clamp helps hold the camera and attachments in place without slipping. You may find the camera slips if you're doing lots of bumpy downhill riding.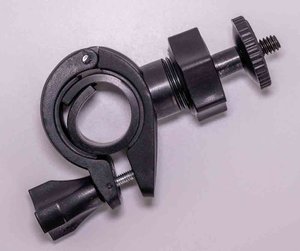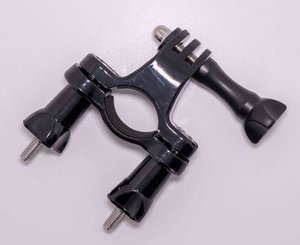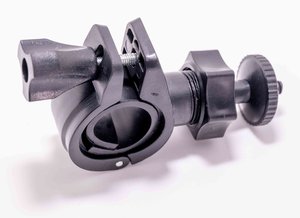 MINI TRIPOD
This is probably the weakest accessory of the pack, as it's not well made. It has flimsy legs that don't have any grip on their feet and a cheap and unconvincing mount where the ¼ 20' mounting screw is. If you only need to use it every so often in a pinch, it's ok, but you would get frustrated if using it regularly, as I think it would affect image stabilisation.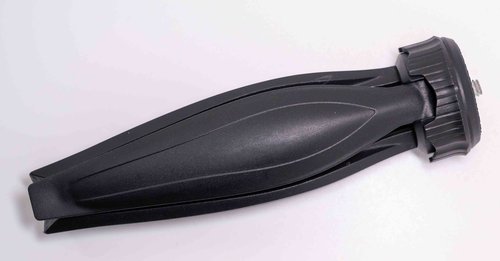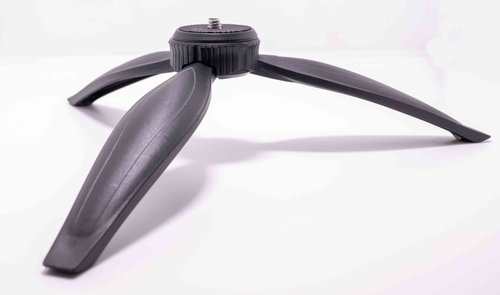 FLOATING HAND GRIP
This is what we all might expect to be in every accessory pack, and this one comes with a complimentary wrist strap, however, strangely has no built in loop on the flotation device to attach it to. It's mounting bracket seems secure and of acceptable quality.

This four-piece extension pole can be twist locked off at any length from its starting point of 30cm to its fully extended range of 90cm. The attachment bracket has a sturdy GoPro mount with ¼ 20' screw. The handle is made of foam, which may wear down quite quickly with repeated use. On the base of the handle is a female ¼ 20' screw and a small loop for a wrist strap. It's well made and thought out.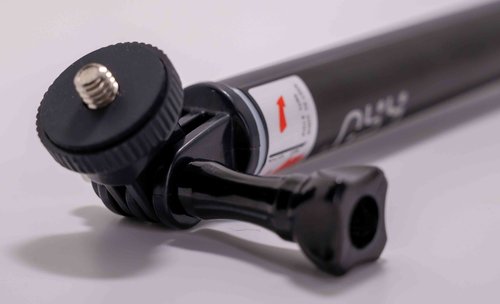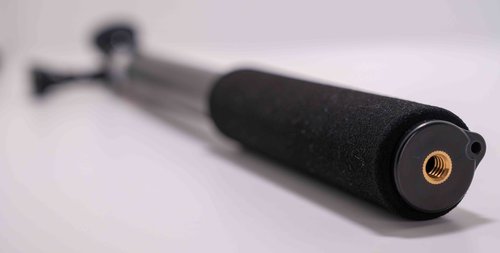 The teeth on this accessory could leave some serious bite marks on your skin if you're not careful, due to their length and the tension on the spring. Hopefully it wouldn't damage your bag, but it absolutely will secure an accessory to your strap.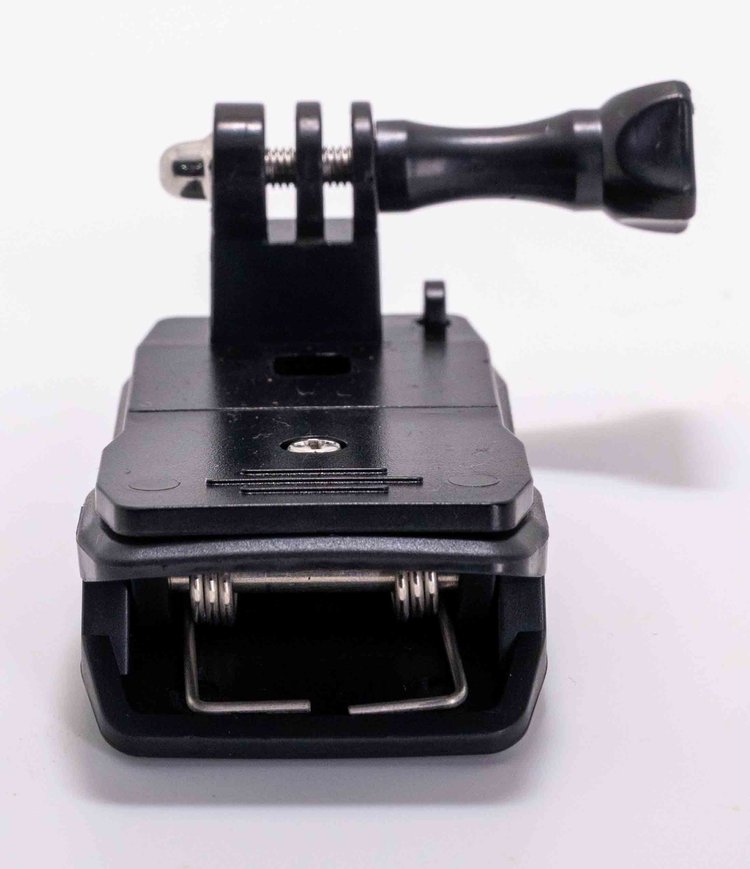 HEAD STRAP
The head strap comes with two bands, one for around your head and one that reaches over the top. Both of which are adjustable and internally lined with rubber nodes to increase grip.

PHONE MOUNT
While a strange accessory to work out what it does unless you read a review like this, the phone mount is very portable and unassuming and enables most if not every phone to be securely mounted.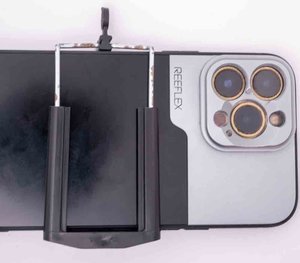 CARRY BAG
There is a soft, sizeable carry bag that would enable the safe transport of most if not all of the accessories you would need for a specific trip. It is a light grey with a draw string to seal it up, and is 26cm (L) x 20cm (W). 

SCREEN PROTECTORS (x2)
Stored in a small plastic carry case there are three screen protectors with all the wipes and cloths you'll need for easy application. Both front and back screen and the lens itself are accommodated for.

Gaining the tick of approval for external use, the suction mount is of surprising strength and seal. It also has a mounting bracket that enables you to position the camera at any angle you choose. Finally it neatly folds up so as to limit its spatial footprint in your bag.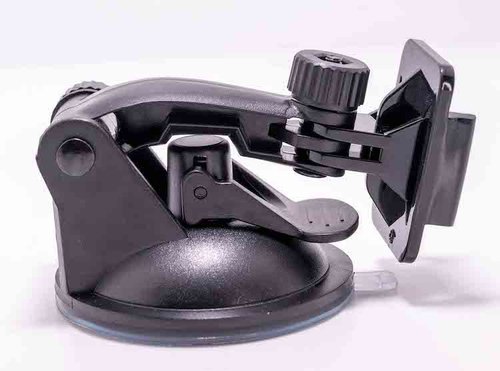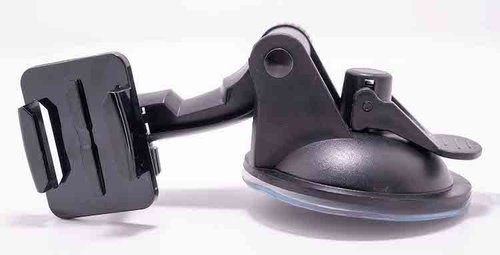 The kit also includes a large hard shelled carry case to put your GoPro and a significant range of accessories in. It's 33cm (L) x 23cm (W) x 6cm (H) with a zip securing it around three edges and a well crafted handle on the fourth edge.. If you're after a protective case that you can store and carry your camera and a variety of accessories in, then this is a great asset.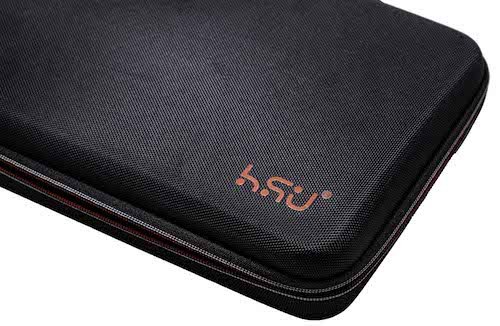 As promised, below is the full list of accessories which you will see includes a number of sticky surface mounts of varying sizes and shapes and GoPro bracket screws. If you'd like to pick up this pack today, then head over to here, and use the code RALPHMAYHEW for a 10% saving.
1 x Silicone Protect Cover Housing Case for GoPro Hero10 Black & Hero9 Black
1 x Lanyard for Housing Case
2 x Tempered Glass Screen Protector
2 x Tempered Glass Lens Protector
2 x Tempered Glass Front LCD Protector
2 x Lens cover
2 x Alcohol-saturated Wet Wipe
2 x Dust Absorber
2 x Cleaning Cloth
3 x Filter (light red, red, magenta)
1 x Battery Side Lid Door Protective for GoPro Hero10 Black & Hero9 Black
1 x Transparent Waterproof Housing for GoPro Hero10 Black & Hero9 Black
1 x Floaty Housing Case for GoPro Hero10 Black & Hero9 Black
1 x Large Shockproof Carrying Case (Randomly deliver red or green one)
1 x Head Belt Strap Mount
1 x Chest Belt Strap Mount
1 x Helmet Strap Mount
1 x Extendable Handle Monopod
1 x Floating Handle Grip
1 x Floating block with 3M adhesive pad
1 x Wrist Strap Mount
1 x Remote Control Wrist Strap
1 x 360-degree Rotary Clip Mount with screw
1 x Large Diameter Bike Handlebar Holder Mount
1 x Small Diameter Bike Handlebar Holder Mount
1 x Adjustable Car Suction Cup Mount(7cm-diameter base)
1 x Vertical Direction Pivot Arms Mount Set (Long & Short Arms Mount + 1 Surface Quick Release Buckle)
1 x Long Same Direction Straight Arms Joint
1 x Short Same Direction Straight Arms Joint
1 x Plastic Wrench Spanner
1 x Safety buckle
1 x High-quality Storage Pouch
2 x Tripod Mount Adapter
2 x Surface J-Hook Buckle
2 x Surface Quick Release Buckle
2 x Flat Surface Mount
2 x Curved Surface Mount
5 x 3M Flat Adhesive Pads
5 x 3M Curved Adhesive Pads
6 x Long screw Bolts
1 x Fabric carrying bag
1 x Neck Strap
1 x Mini Tripod
1 x Helmet Extension Arm
1 x Rubber Locking Plug with Tether
1 x Round Adhesive Mount with Tether Strap