The winter sports season is about to come. Do you plan to go skiing in the winter vacation? If you are a GoPro user, you may be searching for some GoPro accessories that can help you record your pleasure time and the magnificent scene in your skiing trip. Here we list 5 popular GoPro accessories for skiing filming.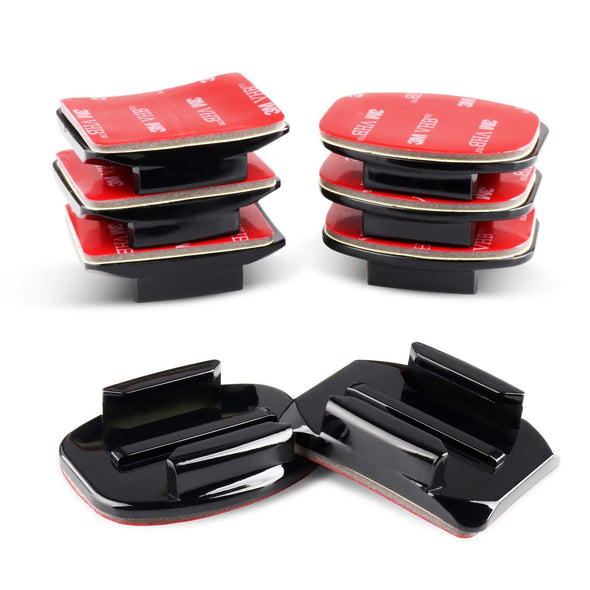 Pro: They are compatible with all GoPro cameras, so you needn't worry about compatibility. Besides, they commonly have two types: flat and curved. You can use based on your needs. The flat one can be mounted on the snowboard, while the curved one can be mounted on the helmet. Moreover, these adhesive mounts can be removed without residue. Used with the quick-release buckle, you can put on and take off your GoPro fast and easily.
Con: When it is mounted on your helmet or snowboard, it cannot be effectively removed without heat (e.g. from hairdryer). When you are on a skiing mountain, you cannot change the position randomly if you are not satisfied with the shooting angle.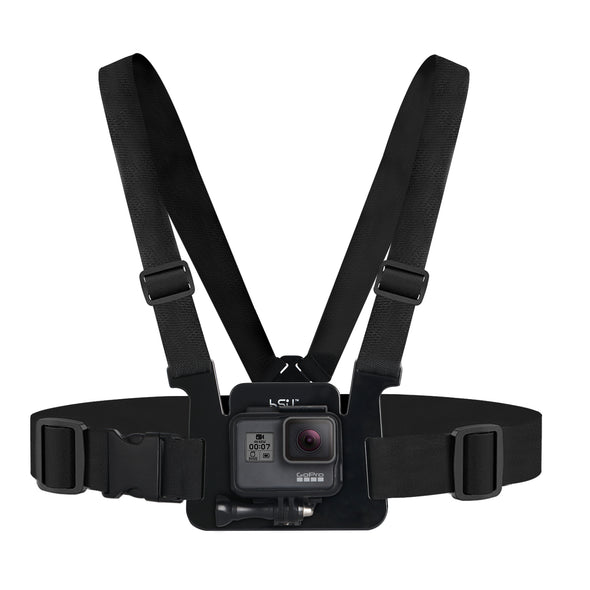 Pro: Chest mount must be one of the most popular body mounts no matter being used in what kind of sports or activities. It can help you shoot perfect pov. Your arms will be recorded when you make big body movements. It makes the sense of the first-person view more real. Compared with the adhesive mount, you can adjust your strap position and GoPro position more easily. And it suits every kind of body type since it is made of elastic material. Flexible and lightweight. You can adjust its tightness through the buckles.
Con: Be careful your GoPro might point down. Since the base of the chest mount is vertical, you need to tilt your camera back 90 degrees and make it as parallel as the base so that you can shoot the view in front of you. The camera will gradually point down because of the speed and shake. If you want to avoid this kind of awkward moment. You have two choices: 1. keep an eye on your camera status and adjust it when it is about to point down; 2. get a J hook. J hook is a kind of GoPro accessory that can help you connect the chest mount base and GoPro. With the J Hook, your GoPro needn't be tilted back. It can stand horizontally as usual.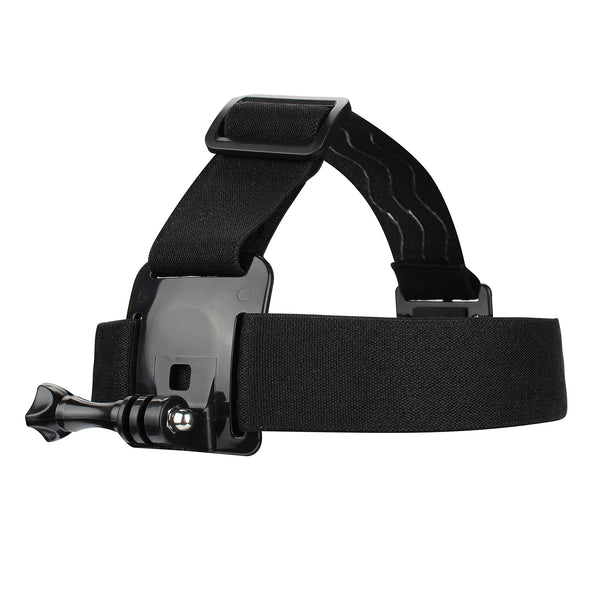 Pro: The head strap is another kind of body mount. It is similar to the chest mount but with a higher view. It can be mounted on your helmet, perfect for all sizes of helmets due to its elasticity. You can use the head strap mount together with the chest strap mount to get more interesting footage from various angles. Besides, you needn't worry it will be loose if it is used on the smooth helmet surface. On the side of the head strap that touches the helmet, there is rubber for added friction.
Con: technically, it can also be used on your head without a helmet. But there is much feedback saying it will make your forehead feel uncomfortable if you wear it without a helmet. So it is mostly suggested for helmet-included activities.
Pro: If you are tired of the views brought by the body mount and desire to get a different shooting view and experience, this ski pole mount might be helpful. It can be mounted on your ski pole. If you want to shoot a high view, mount it near your hand; if you want to shoot the snow view, mount it near your feet. Besides, it can not only be used in ski sports, anywhere with a pole can be mounted such as the bike handlebar. You can adjust the size and tightness through the screw.
Con: Some people think the tightness is hard to adjust. A wrench is required, so it will be better to choose the bundle that includes the wrench if you don't have one.
Pro: On an extremely cold day, a portable battery will be necessary because the GoPro battery may drain very quickly. Actually, replacement battery is a must-have no matter what kind of activity you are going to shoot with GoPro. It will be hard to tell when and where you will run out of the battery, so 2 or 3 packs of replacement batteries can ensure you capture every pleasure moment with no worry.
Con: Even though you have a new battery, you still need to pause the GoPro shooting to get a battery replaced. So remember to change the battery in time if you don't want your footage to be interrupted.
Above are the GoPro accessories that will be helpful for your ski filming. They are all basic and easy GoPro accessories and can be used even when you are not skiing. You can purchase according to your personal needs. Hope this article will be helpful.
----------------
About HSU
Fast forward nearly 10 years and HSU has now sold millions of products worldwide, making it one of the most successful camera accessory brands in the world.
HSU™ is one of the most popular action camera accessory brands on Amazon. Since its listing on Amazon, HSU products have received numerous positive feedback from our customers and some professional action camera accessories are ranked as Amazon's best sellers. Check HSU Store on Amazon here.
If you're new to HSU products, you're warmly welcomed to follow us on Facebook @HSU Shop, Twitter @HSU Shop, Instagram @hsu_officialshop, YouTube@HSU Camera Accessories, and official website to catch up with all our updates.